The City is for All and Dr. Bernadett Szél of the Politics Can Be Different Party (Lehet Más a Politika, LMP), are proposing a bill to withdraw the current regulation that defines living in public spaces as a petty offense. The intent of this proposal is to end the persecution of homeless people living in public spaces in Hungary. The Hungarian Parliament will vote on this bill in April, 2016. Please support this bill by writing a lettet to all members of the Hungarian Parliament.
The letter - which maybe modified as you wish - can be downloaded from here
The contact list of the members of the Hungarian Parliament can be downloaded from here
Please copy us on the email you are sending to our MPs so that we may keep of track of this campaign (avarosmindenkie@gmail.com).
PLEASE SEE A SAMPLE LETTER BELOW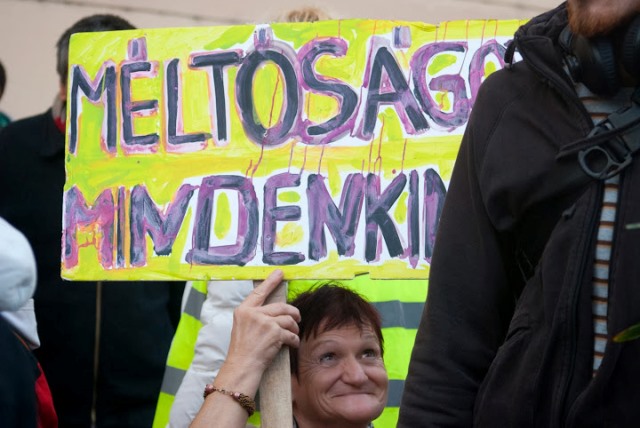 Szólj hozzá!
Címkék:
english
érdekvédelem
lmp
életvitelszerű lakhatás közterületen
Holy Father,

We are members of the Budapest City is for All, all homeless or people experiencing housing difficulties. We turn to His Holiness, because we would like you to know how the Hungarian state treats homeless people. We know that you actively stand up against the oppression of poor people all over the world, and you have provided a lot of support for homeless people as well. Please turn your attention towards Hungary!
Szólj hozzá!
Címkék:
pápa
english
nemzetközi
életvitelszerű lakhatás közterületen
The Budapest Police Headquarters (BRFK - Budapesti Rendőr-főkapitányság) and the Hungarian Helsinki Committee reached an agreement to ensure that the principle of equal treatment is followed in case of homeless and other people living in poor social conditions during police measures like identity checks. The agreement was announced during the joint press conference of the Hungarian Helsinki Committee and the The City is for All (AVM – A Város Mindenkié) homeless interest group on February 18, 2016.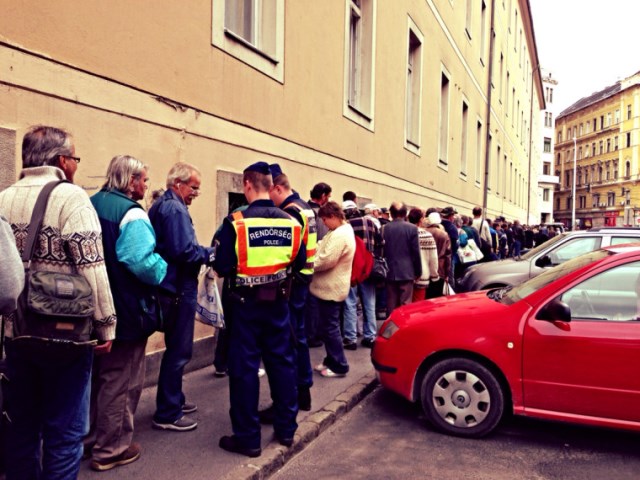 Szólj hozzá!
Címkék:
english
igazoltatás
The city is for all welcomes the announcement of the mayor of the VIII. district of Budapest, Máté Kocsis made in front of the municipal assembly about suspending the evictions in the district and ordering the municipal government to review the processes leading to evictions. In the last months a wave of evictions never seen before started in the district. Dozens of families were evicted by the bailiffs of the municipality, many others left their apartments willingly after receiving the evictions notice. There are a number of evictions scheduled until the 1st of December, the start of the winter evictions moratorium. After the announcement of the mayor, many families can heave a sigh of relief knowing that they will have a roof over their heads during the winter.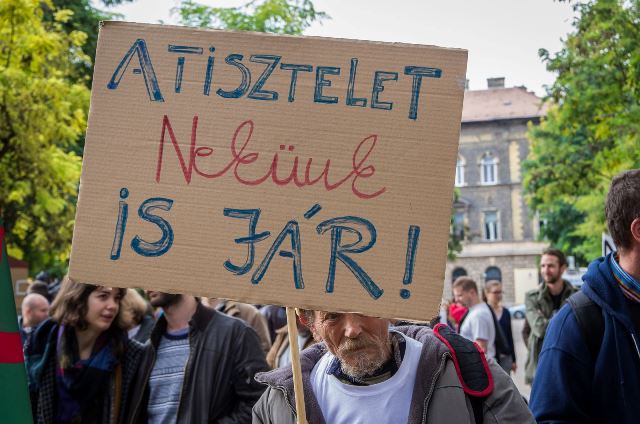 Szólj hozzá!
Címkék:
english
kilakoltatás
józsefváros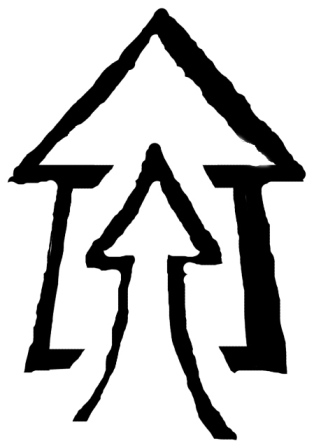 People from all European countries are experiencing the deterioration and violation of their right to housing and the city, coupled with an increase in prices, debt and the growing threat of eviction. The European Union is commodifying public housing and encouraging speculation and financialisation. The decimation of public policies safeguarding the right to housing is contributing to the impoverishment of families and the rise of inequality in our cities. With more than 11 million empty homes, and similar numbers of homeless people - European citizens, migrants and refugees included - evictions are constantly on the rise.
The European Action Coalition for the Right to Housing and to the City is composed of tenants' movements, those in inadequate housing, victims of eviction, trade unionists, those affected by debt, slum and self-built neighborhood dwellers, squatters, campaigners and researchers. We are organizing and struggling all over Europe against this process of privatization and exclusion, and we converge in analysis and action by saying: ENOUGH IS ENOUGH!
Szólj hozzá!
Címkék:
english
nemzetközi
lakhatás
üres házak
európai lakhatási hálózat
GYULA: Hi! I am Gyula Balog, a homeless activist in The City is for All. I am the coordinator of our sensitizing school program.
TESSZA: My name is Tessza Udvarhelyi. I am one of the founders of The City is for All. I am a cultural anthropologist and I live in stable housing.
GYULA: We are homeless, so we have to sleep in public spaces. For four years now, the authorities have used the law to harass and persecute us.
TESSZA:  I live in one of the green districts of Budapest in my own home. Every night I go to bed in peace as I know that I have secure housing for the rest of my life.
GYULA: When we have to go the bathroom, we have to use public spaces as there are no free public bathrooms in the city and they won't let us enter the Hilton Hotel either. We can be fined for up to 100 Euros for this.
TESSZA: If I need to go the bathroom in the city, I can easily go into a nearby café and use theirs for free. If I have time, I can grab a coffee and a cookie, too.
GYULA: We have to stand in line for hours when we try to get our food at a soup kitchen. In the meantime, the police may check my identity twice.
TESSZA: I often spend time at outdoor places where I can order whatever I want. Nobody every asks me why I am there and what I am doing.
GYULA: When we rest on a bench in a park or sell the local streetnewspaper, we are almost always checked by the police. Why don't they check people in suits?
TESSZA: I often hang out with my friends on a bench in a park or on the street. The police has never asked me for my identity card.
GYULA: When we ask for help regarding our housing, we are sent to mass shelters.
TESSZA: When I ask for help regarding out housing, the state offers me a subsidized mortgage.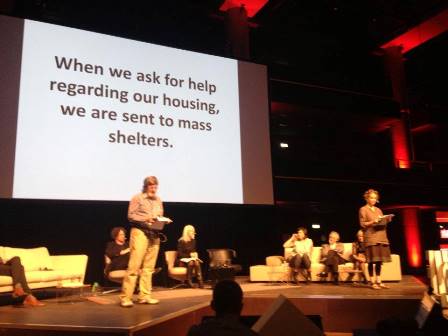 Szólj hozzá!
Címkék:
english
nemzetközi
Thank you so much for having me here! My name is Tessza and I represent The City is for All, A Város Mindenkié, a homeless advocacy group made up of mostly homeless people. I am very happy that we are all here to celebrate the second birthday of Migszol. This is a big achievement!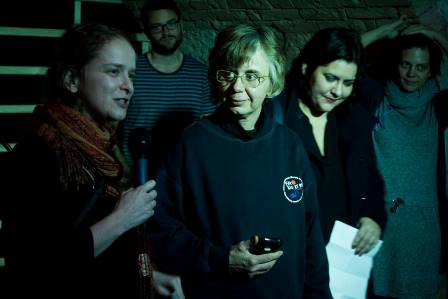 Szólj hozzá!
Címkék:
english
szolidaritás
menekültek
migszol